Range and capacity: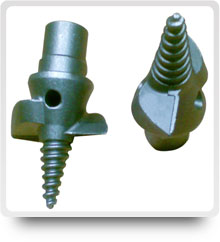 Weight from few gms. to 100 kgs. Single pcs.
Dimension up to 1000 mm length.
Material: Ferrous and Non-ferrous Alloys in all international
standard.
Surface roughness will be 125 to 250 RMS.
Annual capacity of 250 M.T.
Features:
Close dimension tolerances
Excellent surface finish
Reduced machining.
Flexibility in ordering. Metal Cast can offer of minimum quantities from 100 to maximum 20000 no of single item/ month.
Freedom of design, Metal Cast can offer parts having a core, at very competitive price.
Eliminating general foundry defects.
Complexity of shape.
Wide selection of Alloys like Martensitic, Ferritic, Austenitic and duplex steels viz. CF8, CF8M, CF3,CF3M CD 4MCU, CN 7M, 17-4 PH, 17-7 PH, CA-15 Etc, Plain carbon steels, replica breitling Low and High alloys steels, Cobalt based alloys, Nickel based alloys, Ductile Iron, Aluminium & Alloys, Copper & Alloys etc. as per international standards such as ASTM, AISI, SAE, MIL, IS, BS, DIN, JIS, SS etc.

Value added services: Machining, Heat treatment, Plating (Zinc, Nickel, Chrome), Painting (powder and liquid paint), Phosphatising, and Blackening with ready to use assemblies and sub assemblies

Fri, July 18
Lorem ipsum dolor sit amet Consectetuer adipiscing elitraesent

Fri, July 18
Lorem ipsum dolor sit amet Consectetuer adipiscing elitraesent
Read more